*NEW* The Therapy Box
6 of the most amazing cheeses delivered to your door
Grab a Box Now
IN THE PACK THIS MONTH...
Don't miss out on our latest news and offers!
Join our mailing list and receive for the latest news about what's on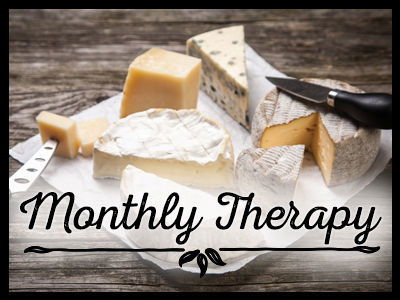 Every month we send amazing cheeses from around the world, direct to the doors of our members all over the country. What we send you, you can't buy in most shops. Our cheese packs showcase handcrafted, artisan cheeses from Australia and around the globe. You can't get this stuff easily.


Joining our club is simple. Each month we carefully select four different cheeses - one hard, soft, stinky and blue cheese. You have the choice of what type of subscription works best for you. Simply choose how many cheeses and of which type you would like and then tell us how often you would like your cheese - monthly, bi-monthly or quarterly. Or perhaps you just want a one-off pack to try first.
KEEP UP WITH CHEESEY NEWS
Join our mailing list for monthly deals, specials, information and tasting notes


@cheesetherapyAU on Instagram