Everyone deserves a Therapy Box
Supporting great Australian cheesemakers & delivered to your door!

This special one-off box features artisanal cheese by traditional makers across the country who need a hand right now. We know, cheese makes everything better!
Order a Box Now
JOIN AUSTRALIA'S ULTIMATE CHEESE CLUB!
Subscribe now for hand selected cheese from around the world with tasting notes and online masterclasses with us. You can tell us how often to deliver to your door.
Each pack features special, rare and interesting cheese chosen for you!
Join the 2020 Club now
Keep up with our latest news and offers!
Join our mailing list for news, events, ideas, recipes and more :)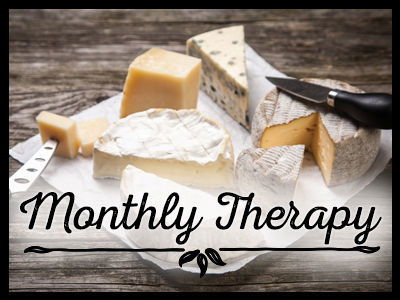 Each month we choose amazing cheeses from around the world, add tasting notes and more and deliver them to your door - Club members live all over Australia. Most of our range is not easy to find in stores and we focus on handcrafted cheeses made with love, care and flair!


Join us, it's super simple. Each month we feature four kinds - one hard, soft, stinky and blue cheese. You can tell us how many cheeses and which type you like and how often you want delivery - monthly, bi-monthly or quarterly. Pause any time, no strings (definitely no string cheese.) Or perhaps you just want a one-off pack to try first? We can do that.
We also reward you if your friends and family sign up too!
KEEP UP WITH CHEESEY NEWS
Join our mailing list for monthly deals, specials, information and tasting notes